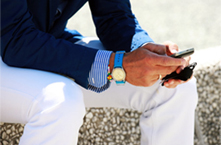 About us
JSC "Spatula" is a textile company, which has been operating since 1997, officially represents prominent fabrics manufacturers  and supplies drapery for mens and ladies apparel in the Baltic States, in Belarus.

The fabrics are available of high quality, wide range of colours, weights  and textures.

You can choose fabrics for mens and ladies coats, suits, dresses, jackets, dress coats, wedding dresses  and wedding veils.

When matching and offering the fabrics, we consider a customer's preferences regarding his/her future clothing.

Fabrics can be ordered only from available catalogues of various fabrics manufacturers.  Delivery is made within 1-2 working days.

There are no restrictions applied on your order quantity.

We are ready to recommend you only the best designers and tailors that make the best quality clothes.