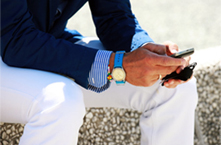 Tailoring
Do you know that mens suits were available only for successful and wealthy people in the past, while tailoring of mens suits was a generally accepted way to acquire new clothes?

Do you know that the bigger the company employing You and Your job position are the smaller amount of synthetics you should have in Your apparel?

Do you know that the best fabric made by leading manufacturers and a custom tailoring of a formal suit creates an image of a modern businessman?

In todays world of big business and important decisions, a good self-introduction is especially significant, thus, a perfect suit is a proper helper for a businessman.

Lately, a lot of men increasingly pay attention to their own appearance. Though it is not surprising as the saying is, "First you judge "how nice..."". Besides, looking perfect in any situation is just a must.

Men's suits for winter:

Criteria of winter clothing significantly differ. Winter suits should be made of drapery which is sturdy and heavy on one hand, buy warm and elegant on another hand. In winter, it is challenging to harmonise an elegant appearance and a comfortable feeling. Stylish men often feel cold in their light clothes. Thus, prominent fabric manufacturers give an opportunity to them to enjoy high quality, warmth and richness of fabrics for winter suits. 






 
TarTan

More >>>

 
 
 


 
Sigitas Bernotas

More >>>
 
 
 
 

Serge Gandzumian



More >>>